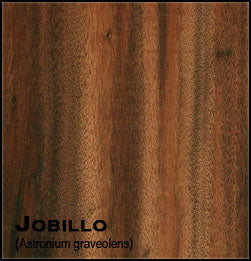 Jobillo 4/4 & 8/4
   Jobillo (Astronium graveolens) trees reach a height of up to 120 feet, with a trunk diameter of 24 to 40 inches or more above narrow flanged buttresses that are about 4 to 6 feet high. It develops well-formed cylindrical boles that are often clear for about two-thirds or more of the total height of the tree.

   A lesser-known-species from Central and South America, Jobillo is reported to be one of the most beautiful tropical woods. It is tough, strong and durable, and is suited primarily for construction and secondarily for fine furniture. The heartwood is highly durable and is resistant to attack by both rot and by dry-wood insects.

   The sapwood is grayish-white or brownish white in color and is very distinct from the heartwood. Heartwood is typically a medium reddish brown with irregularly spaced streaks of dark brown to black. The color tends to darken and redden with age.

   Jobillo is used for flooring, veneers, furniture, cabinetry, carving, turned objects, and other small wood specialty objects such as: pool cues, archery bows, knife handles, etc. The lumber is more commonly known as Goncalo Alves and is referred to as "Tigerwood" or "Brazilian Tigerwood" among flooring dealers.
| | |
| --- | --- |
| Botanical Name | Astronium graveolens |
| Origin | Central America to northern South America |
| Janka Hardness | 2,170 lbf |
| Average Dried Weight | 57 lbs/ft3 |
| Workability | Jobillo works well, despite its density, and having a moderate blunting effect on cutters. Pieces with irregular grain can be difficult to plane or machine. The wood does not absorb moisture well, which can make it difficult to glue. Jobillo turns and finishes well. |
| Related Species | n/a |
30 board feet available
Pickup available at 4050 Old Cornelia Hwy
4050 Old Cornelia Hwy
4050 Old Cornelia Hwy
Gainesville GA 30507
United States
Wood Calculator Section
Need Help Figuring out how much you need ?
One Board foot = 144 Cubic Inches
Example: If you need a piece of wood 12 inches wide, 1 inch thick and 24 inches long, that is equal to 2 board feet.

12 inches x 1 inch x 24 inches = 288 inches. 288/ 144 = 2 board feet