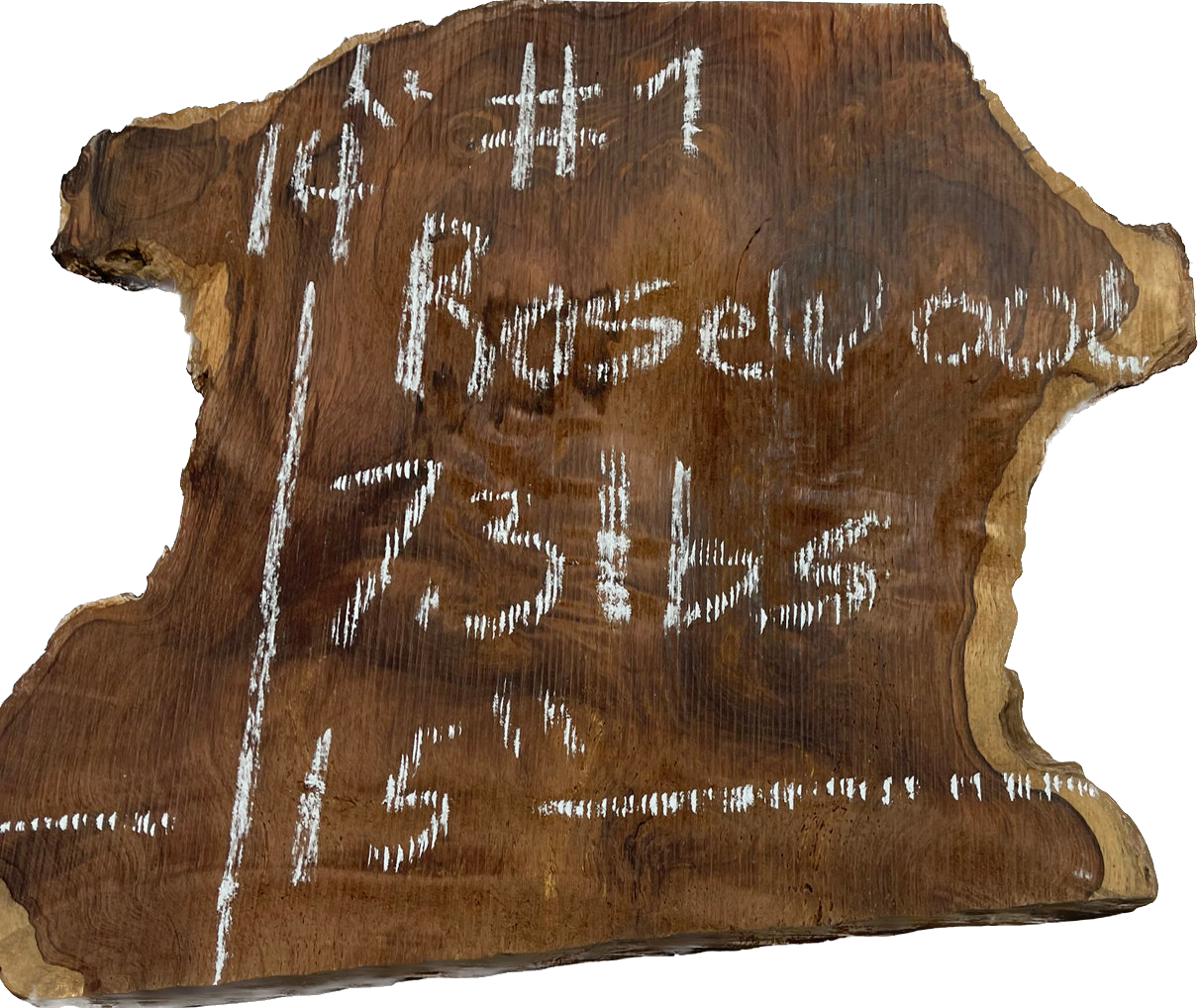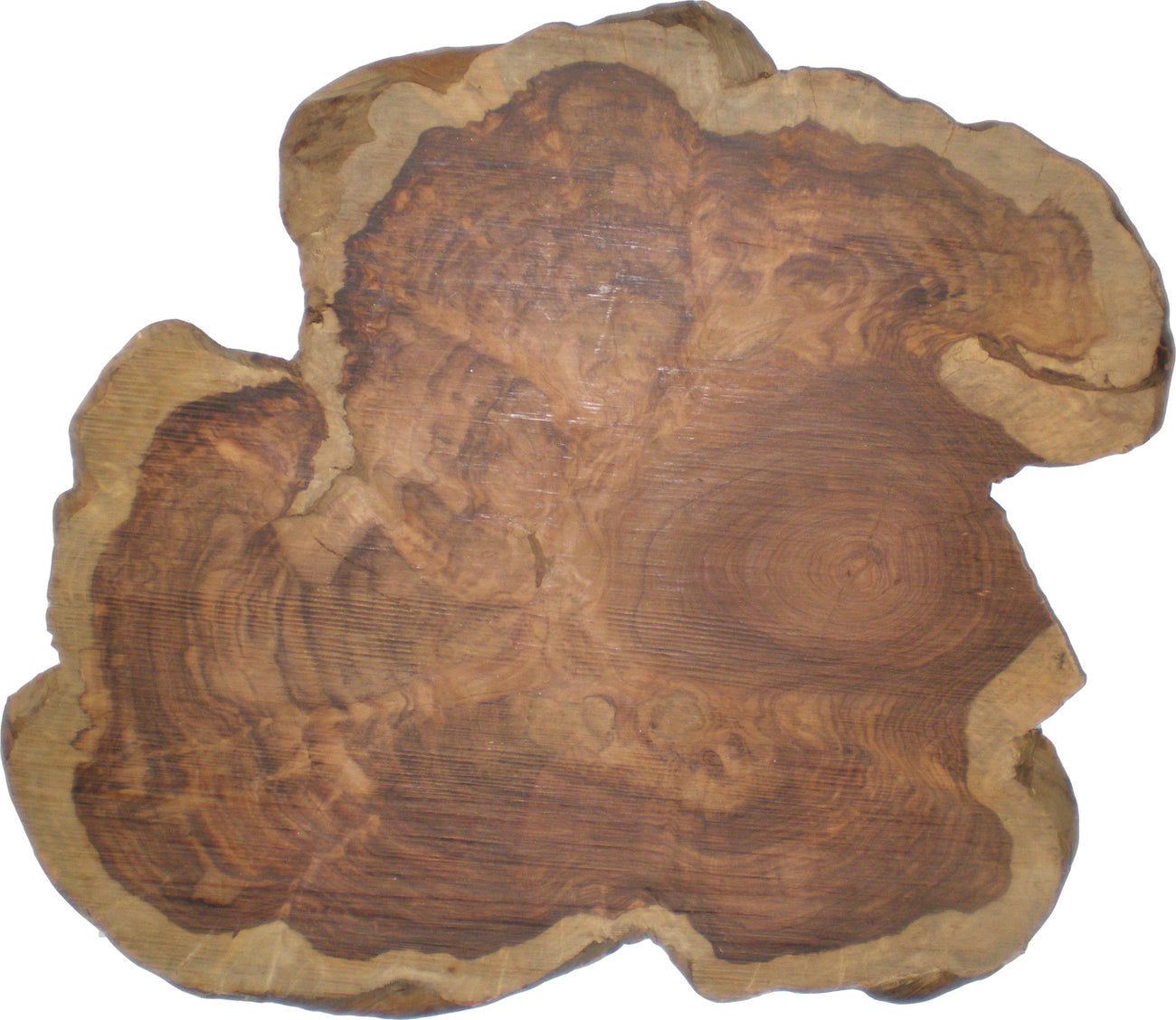 Honduran Rosewood Burls
   Honduran Rosewood (Dalbergia stevensonii) trees grow up to a height of about 100 feet. Trunks are typically fluted and short, and are usually forked at about 25 to 30 feet above the ground. Trunk diameter can reach up to 36 inches. The trees produce yellow flowers and have a papery bark that is only about 0.25 inch thick. The real prize is the highly sought after lumber contained inside.

   The heartwood color can range from a deep brownish-purple to a light-brown with darker and lighter bands. The clearly marked sapwood is a pale yellow. The combination of colors and streaks gives the wood a very attractive appearance. Besides being beautiful to look at Honduran Rosewood is known for its acoustic qualities. Having an excellent tap-tone makes it well-suited for acoustic guitars, xylophone keys, and other acoustic musical instruments. Because the lumber is so hard and durable, most items made with it will last a lifetime.

   The natural range of Honduran Rosewood is restricted to a somewhat small area in southern Belize. This tends to limit the readily available supply of lumber and causes pricing to be higher than most other exotic woods. Measures have been taken by the government of Belize to control the cutting of this valuable natural resource. These measures should help to ensure a sustainable supply of lumber without endangering the species future.

Botanical Name


Dalbergia stevensonii
Origin
Belize (British Honduras)
Janka Hardness
2,200 lbf
Average Dried Weight
64 lbs/ft3
Workability
Rosewood can be difficult to cut and machine due to its blunting effect on cutting edges. It tends to ride over cutters during machining, but turns well. Because of its high oil content, gluing can be problematic.
Related Species
African Blackwood

 

(Dalbergia melanoxylon)
Amazon Rosewood

 

(Dalbergia spruceana)
Brazilian Rosewood

 

(Dalbergia nigra)
Burmese Blackwood

 

(Dalbergia cultrata)
Burmese Rosewood

 

(Dalbergia oliveri)
Cocobolo

 

(Dalbergia retusa)
East Indian Rosewood

 

(Dalbergia latifolia)
Kingwood

 

(Dalbergia cearensis)
Madagascar Rosewood

 

(Dalbergia baronii)
Siamese Rosewood

 

(Dalbergia cochinchinensis)
Sissoo

 

(Dalbergia sissoo)
Tulipwood

 

(Dalbergia decipularis)
Yucatan Rosewood

 

(Dalbergia tucurensis)
1 available
Pickup available at 4050 Old Cornelia Hwy
Honduran Rosewood Burls
Burl 1
4050 Old Cornelia Hwy
4050 Old Cornelia Hwy
Gainesville GA 30507
United States
Wood Calculator Section
Need Help Figuring out how much you need ?
One Board foot = 144 Cubic Inches
Example: If you need a piece of wood 12 inches wide, 1 inch thick and 24 inches long, that is equal to 2 board feet.

12 inches x 1 inch x 24 inches = 288 inches. 288/ 144 = 2 board feet