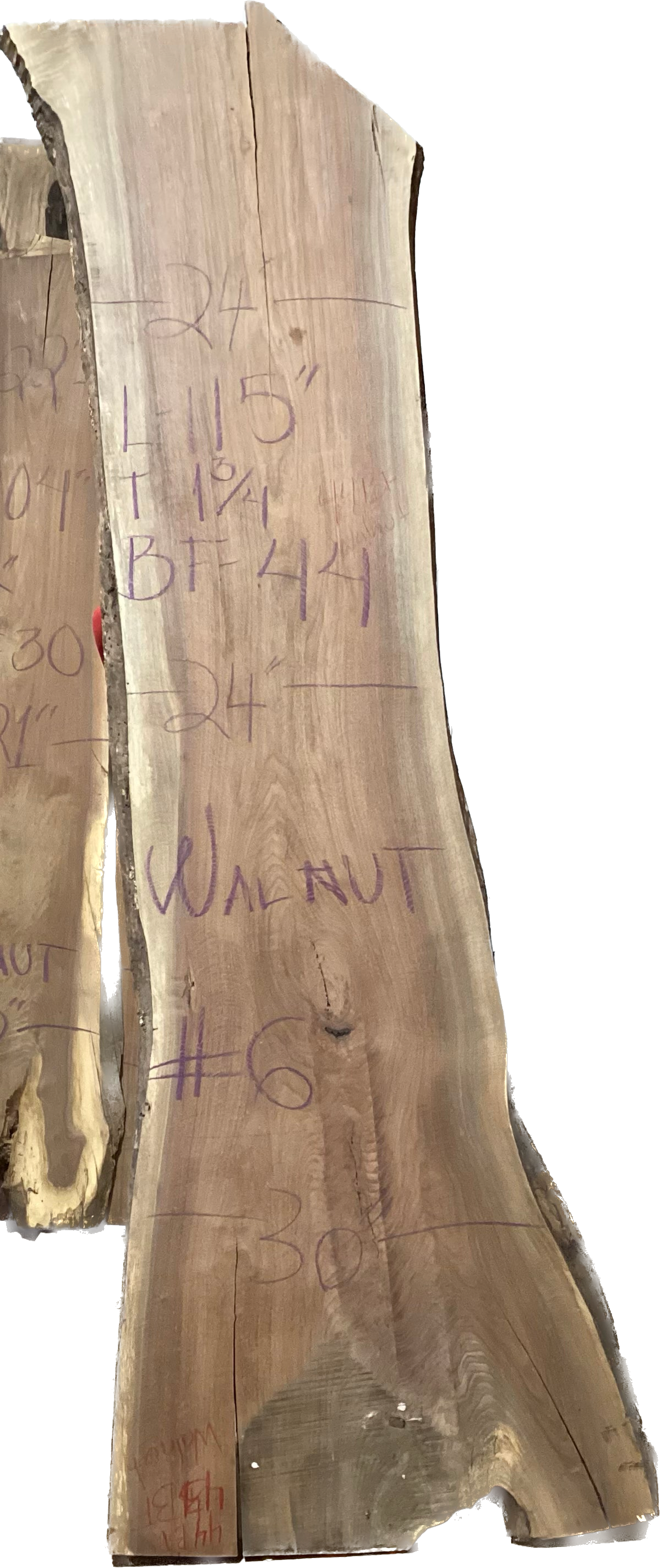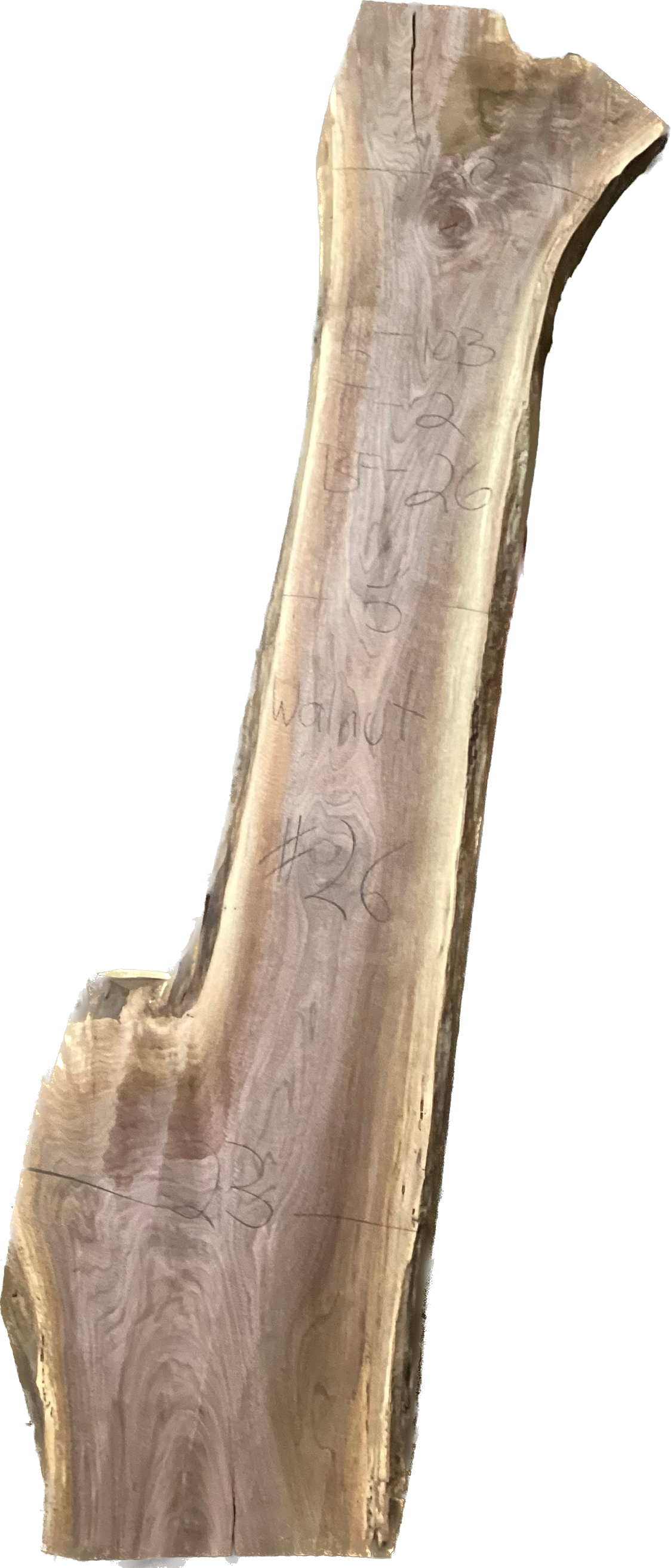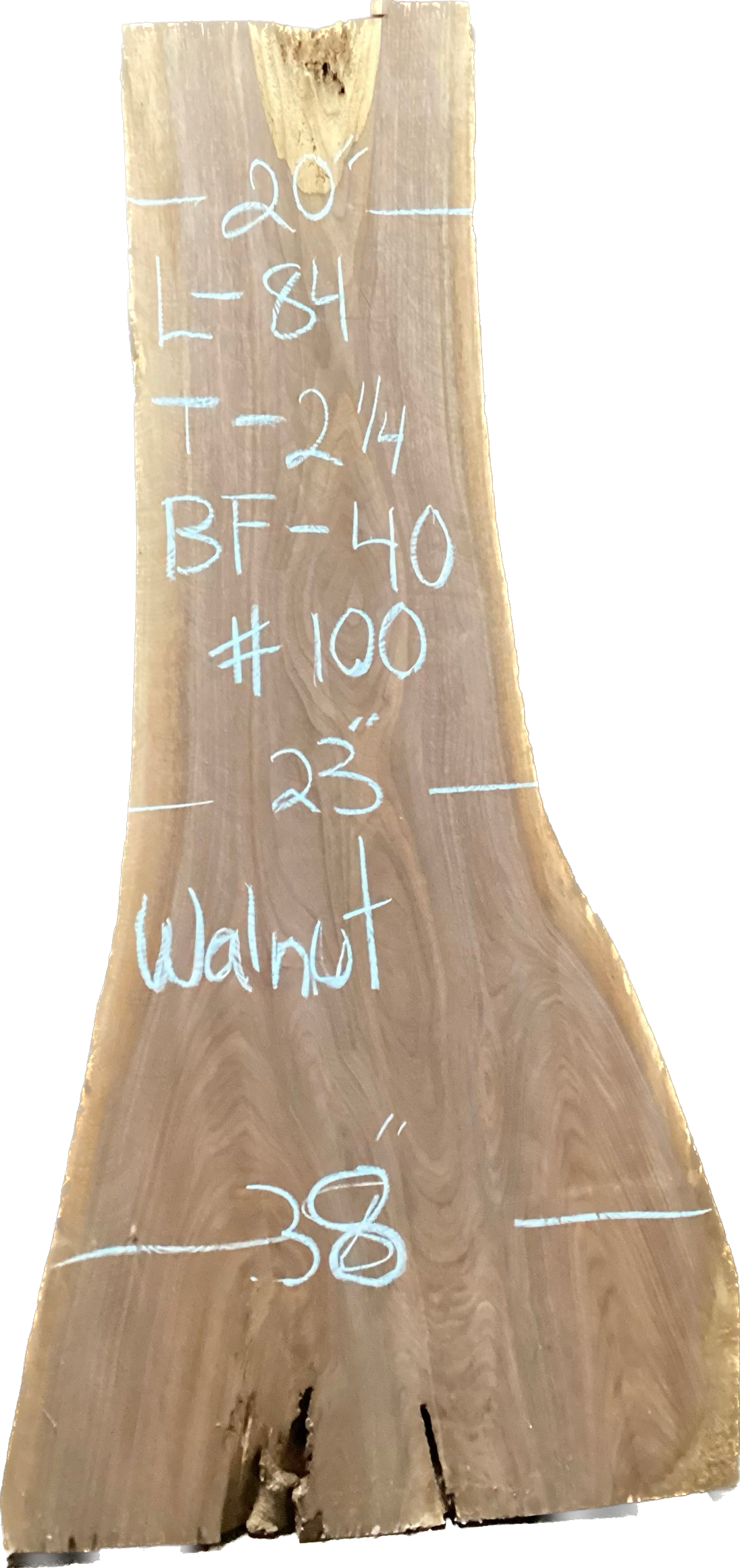 Walnut Slabs 8/4- 1-100
   Walnut (Juglans nigra) trees are native to the United States and are prized for their strong, durable timber. Black walnut wood is shock resistant stable and heavy---weighing approximately 36 to 38 pounds per cubic foot. It polishes well, works easily with both hand and power tools and easily takes a range of finishes. This naturally dark wood is used extensively for flooring, interior trim decorative panels, high-quality furniture, architectural woodwork and musical instruments.

   There are two different types of walnut lumber depending on the layer. The outer layer is called sapwood and the inner layer is called the heartwood. Walnut sapwood can be three inches in width and has a creamy white color. The walnut heartwood has a more chocolate brown color. The walnut wood surface reflects an extraordinary grain variation. Its rich and illustrious brown color lasts over time, that's why it has become a favourite among carpenters and woodworkers.

   Walnut wood is relatively easy to work with using power and hand tools. You can easily create crispy details after shaping, routing and sanding. It is inherently strong, stable and shock resistant. Compared to other wood types, walnut does not shrink or swell easily. These qualities are what cabinet makers and gunsmiths seek. Walnut wood rarely has sap pockets so you can polish it really well. One of the biggest advantages in crafting this wood is that in most cases, you do not need to add a layer of stain on the wood to make it more appealing. Its natural color makes it attractive enough that you only need to apply a clear-coat finish.

   The wood quality is judged based on the number of possible defects on it. These defects may be dead limb, insect holes, knots and bird pecks. The best patterned part of a walnut wood can be taken from the roots of the tree. However, the amount of wood you can take from such part is only enough to make small wood ornaments. It is important to note that walnut wood's sawdust can irritate the eyes, skin and nose. It can also cause allergies and asthma. You have to take extra care and use a dust mask when working with walnut.

Botanical Name


Juglans nigra
Origin
Eastern United States
Janka Hardness
1010 lbf
Average Dried Weight
38 lbs/ft3
Workability
Typically easy to work provided the grain is straight and regular. Planer tearout can be a problem with irregular or figured grain. Walnut glues, stains and finishes well.
Related Species
Bastogne Walnut

 

(Juglans x paradox)
Butternut

 

(Juglans cinerea)
Claro Walnut

 

(Juglans hindsii)
English Walnut

 

(Juglans regia)
Peruvian Walnut

 

(Juglans spp.)
1 available
Pickup available at 4050 Old Cornelia Hwy
Walnut Slabs 8/4- 1-100
Slab 1
4050 Old Cornelia Hwy
4050 Old Cornelia Hwy
Gainesville GA 30507
United States
Wood Calculator Section
Need Help Figuring out how much you need ?
One Board foot = 144 Cubic Inches
Example: If you need a piece of wood 12 inches wide, 1 inch thick and 24 inches long, that is equal to 2 board feet.

12 inches x 1 inch x 24 inches = 288 inches. 288/ 144 = 2 board feet